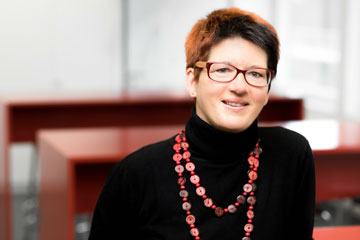 The Applied Dermatology has its own research focus and its members are also active in collaborative projects with groups from in and outside the Vetsuisse Faculty.
I. Major research focus: Canine non-inflammatory alopecia
The major focus of our research group is to understand the molecular pathways involved in the activation of follicular stem cells and the regulation of the hair cycle to elucidate the pathogenetic mechanisms underlying primary alopecia. Non-inflammatory alopecia is a frequent problem in dogs and men and the pathogenesis of this group of disorders is still largely unknown. Over the last years, we defined the canine hair cycle stages in healthy and alopecic dogs in more detail, investigated the colony forming capacity of canine follicular cells and established markers for the canine stem cell compartment. The results of these studies enable us now to investigate the molecular control of the canine hair cycle and the stem cell compartment. In the future we will focus on the definition of alopecia specific signatures by comparing the gene expression profile of cycling hair follicles in alopecic dogs as compared to healthy dogs. Furthermore we will establish hair follicle organoids to be able to perform in vitro studies. We aim to define alterations in the growth potential and the molecular signature of the hair follicle and the stem cell compartment in alopecic dogs as compared to healthy dogs. We expect that the collective results of our work will foster our understanding of the normal canine hair cycle and the pathogenesis of alopecic disorders. In addition the expected results may contribute significantly to the understanding of human alopecic disorders since the stem cell compartment and the histological finding in androgenic alopecia are similar in dogs and humans. In the far future these data then will help to find new treatment options in dogs and eventually also in man.
II. Recent examples of other research activities in dermatopathology
Canine Anaplasmosis – is it a pathogen in skin disease?
Histological characterization of genetically hairless dogs
Histological characterization of other hereditary skin diseases
Equine Leishmaniasis
Equine vasculitis
Porcine vesicular cutaneous lupus erythematosus
Sebaceous dysplasia in cats
Case reports on various topics
COLLABORATIONS
Prof. Eliane Müller, Institute of Animal Pathology, Molecular Dermatology and Stem Cell Research, Department Infectious Disease and Pathobiology, Vetsuisse Faculty Bern, Bern, Switzerland
Prof. Dr. Ilze Matise-VanHotana, Institute of Veterinary Pathology, Faculty of Veterinary Medicine, University of Agriculture, Riga, Latvia
Prof. Tosso Leeb, Institute of Genetics, Department of Clinical Research and Veterinary Public Health, Vetsuisse Faculty Bern, Bern, Switzerland
Prof. Cord Drögemüller, Institute of Genetics, Department of Clinical Research and Veterinary Public Health, Vetsuisse Faculty Bern, Bern, Switzerland
Prof. Manabu Ohyama, Department of Dermatology, Keio University School of Medicine, Tokyo, Japan
Tetsuro Kobayashi, Department of Dermatology, Keio University School of Medicine, Tokyo, Japan
Prof. Norbert Müller, Institute of Parasitology, Department Infectious Disease and Pathobiology, Vetsuisse Faculty Bern, Bern, Switzerland
Prof. Petra Roosje and Kathrin Timm, Division of Dermatology, Department of Clinical Veterinary Medicine, Vetsuisse Faculty Bern, Bern, Switzerland
Prof. Claude Favrot, Division of Dermatology, Department of Clinical Veterinary Medicine, Vetsuisse Faculty Zürich, Zürich, Switzerland
Prof. Linda Frank, Department of Small Animal Clinical Sciences, College of Veterinary Medicine, University of Tennessee, Knoxville, USA
Dr. Monika Linek, Tierärztliche Spezialisten, Hamburg, Germany
Dr. Silvia Rüfenacht, Dermavet, Oberentfelden, Switzerland
Prof. Julie Yager, Department of Pathobiology, University of Guelph, Guelph, Canada
Mitarbeitende
Gruppenleiterin
Name / Titel

Funktion

Leiterin Biopsie

Mail
Telefon
Publikationen
Please get a complete overview about our publications under PubMed